We are happy to announce that Concept Dezain is collaborating with Invoicera to give each of  5 winning readers a 6-month classic subscription for free, valued at $56.12. Invoicera is an online invoicing software which is designed to make online billing a simple task to perform for all online entrepreneurs.
Moreover, there are various other functions provided by Invoicera to let you manage your business transactions in a more efficient way. The time tracking software allows you to save your time which you spend on your different projects and its exceptional billing services lets you manage your all invoicing related issues so that you can concentrate on other important aspects of your business.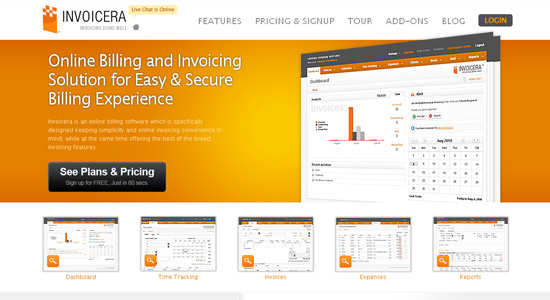 The experiences of our readers with us have enabled us to evaluate some of the most crucial solutions to their day-to-day billing problems. Therefore, we consider our self lucky enough to be able to help them with Invoicera, an online invoice billing application.
This is the reason we have decided to provide this excellent opportunity for you. So, grab this before it is too late to decide whether to go for this or not?
How to Enter?
Sign Up for free account at Invoicera.
Leave a comment stating why you want Invoicera.
FInally Tweet about this giveaway or share it in your Facebook wall.
(Optional) Suscribe to our RSS Feed to know about more awesome Free Stuff.
The first 50 comments will be shortlisted and five winners will be selected out of those in a random fashion. But remember, the offer is limited till 3rd of December only. Its true that life gives you too many opportunities, the only thing is you should keep your eyes open to avail them.
So, tighten up your belts and go for the offer as we are sure that you would not like your comment to be ranked at 51st place.
Good Luck to all!!!