Welcome to part 4 of this series on How to set up a killer wordpress blog. In this part We`ll be choosing our plugins. The first thing you need to know is that there are lots and lots of WordPress plugins, so in some cases, I`ll be listing more than one for the same purpose, just in case you don`t want to use the same as I do, or just want to try something new, it`s you choice!.  There are some plugins that may need template modification, so I`ll let you know as we go along. Well Lets Get Started.
Dealing With Spam
Akismet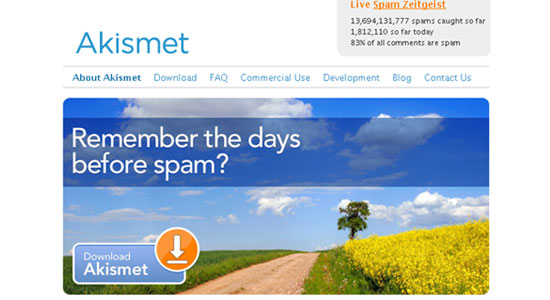 This is the most used anti spam WordPress Plugin, and very easy to install. This plugin comes with your wordpress installation. Akismet checks your comments against the Akismet web service to see if they look like spam or not and lets you review the spam it catches under your blog's "Comments" admin screen.
More Anti Spam Plugins
An extremely powerful WordPress anti-spam plugin that eliminates blog comment spam, including trackback and pingback spam. Finally, you can enjoy a spam-free WordPress blog! Includes spam-free contact form feature as well.
Adds CAPTCHA anti-spam methods to WordPress on the comment form, registration form, login, or all. In order to post comments or regiser, users will have to type in the phrase shown on the image. This prevents spam from automated bots. Adds security. Works great with Akismet. Also is fully WPMU and BuddyPress compatible.
The AVH First Defense Against Spam plugin gives you the ability to block spammers before any content is served. Spammers are identified by checking if the visitors IP exists in a database served by stopforumspam.com, the Project Honey Pot or a local blacklist.
Google Adsense plugins
Adsense Now!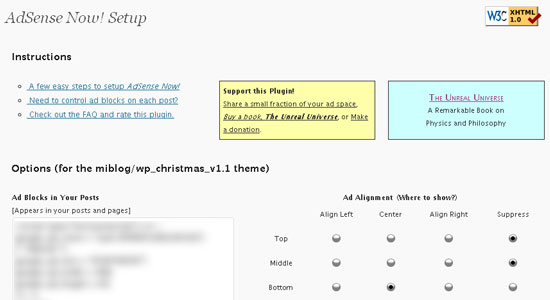 Aiming at simplicity, AdSense Now! does only one thing: it puts your AdSense code in up to three spots in your posts and pages (both existing ones and those yet to be written).
Other Asense Plugins
Easy AdSense provides a very easy way to generate revenue from your blog using Google AdSense. With its full set of features, Easy AdSense is perhaps the first plugin to give you a complete solution for everything AdSense-related.
This plugin will manage and rotate your Google Adsense and other ads on your WordPress blog. It automatically recognises many ad networks.
Use this plugin to quickly and easily insert Google Adsense to your posts, pages and sidebar by using a trigger text or calling the php function.
Seo For WordPress? Yes, that`s Right
All In One SEO Pack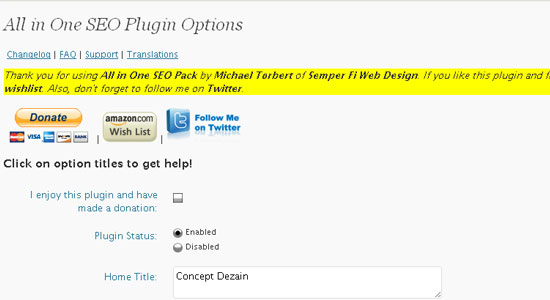 Very usefull plugin to control everything SEO related about your wordpress blog.
Other SEO Plugins
HeadSpace2 is an all-in-one meta-data manager that allows you to fine-tune the SEO potential of your site. Visit the HeadSpace page for a video demonstration.
SEO Smart Links provides automatic SEO benefits for your site in addition to custom keyword lists, nofollow and much more. It can automatically link keywords and phrases in your posts and comments with corresponding posts, pages, categories and tags on your blog.
Optimizes your WordPress blog for Search Engines (Search Engine Optimization).
Ad a Contact Form to Your Blog
Contact Form 7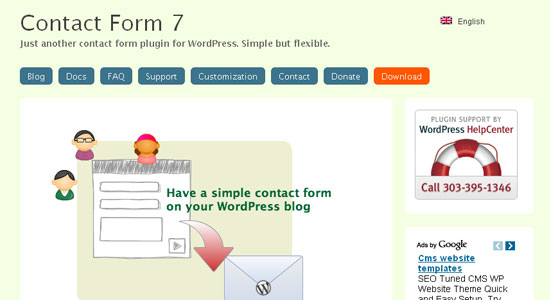 Contact Form 7 can manage multiple contact forms, plus you can customize the form and the mail contents flexibly with simple markup. The form supports Ajax-powered submitting, CAPTCHA, Akismet spam filtering and so on.
More Contact form Plugins
WP Contact Form is a drop in form for users to contact you. It can be implemented on a page or a post.
cforms is a highly customizable, flexible and powerful form builder plugin, covering a variety of use cases and features from attachments to multi form management, you can even have multiple forms on the same page!
WP Contact Form III is a simple contactform based on Ryan Duff's WP Contact Formand Doug Karr's challenge (antispam) mod for Ryan's original form.
Always pay extra attention to your Feeds
FD Feedburner Plugin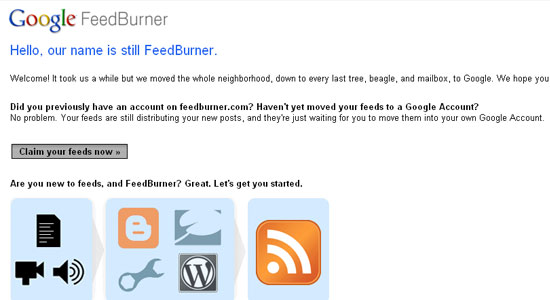 Redirects the main feed and optionally the comments feed to Feedburner.com. It does this seamlessly without the need to modify templates, setup new hidden feeds, modify .htaccess files, or asking users to migrate to a new feed. Remember that if you are going to use this plugin you must set up a Google feedbuner account.
This is the only feed burner plugin I`ve found whith this characteristics, If you`ve found another let me know so I can ad it to the listn.
Google Analytics in our Blog, a Must
Google Analytics for WordPress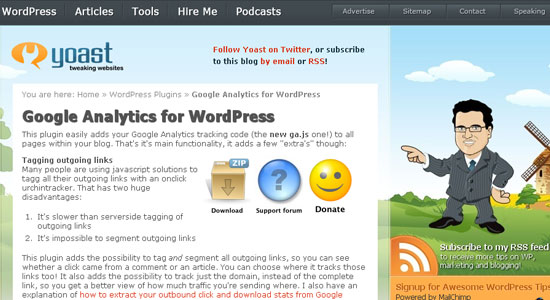 This plugin easily adds your Google Analytics tracking code (the new ga.js one!) to all pages within your blog.
More Analytics plugins
Adds the necessary JavaScript code to enable Google Analytics logging on any WordPress blog. This eliminates the need to edit your template code to begin logging. Google Analyticator also includes several widgets for displaying Analytics data in the admin and on your blog.
With this plugin you can use Google Analytics to track your WordPress site statistics. It is easily configurable.
Linking to non-WP sections
This plugin allows you to make a WordPress page or post link to a URL of your choosing, instead of its WordPress page or post URL. It also will redirect people who go to the old (or "normal") URL to the new one you've chosen (301 Moved Permanently redirects are standard, but you can choose a 302 Moved Temporarilyredirect if you wish).
Other Linking Plugins
Simple 301 Redirects provides an easy method of redirecting requests to another page on your site or elsewhere on the web. It's especially handy when you migrate a site to WordPress and can't preserve your URL structure. By setting up 301 redirects from your old pages to your new pages, any incoming links will be seemlessly passed along, and their pagerank (or what-have-you) will be passed along with them.
Redirection is a WordPress plugin to manage 301 redirections, keep track of 404 errors, and generally tidy up any loose ends your site may have. This is particularly useful if you are migrating pages from an old website, or are changing the directory of your WordPress installation.
Managing Pages
pageMash
Customise the order your pages are listed in and manage the parent structure with this simple ajax drag-and-drop administrative interface with an option to toggle the page to be hidden from output. Great tool to quickly re-arrange your page menus.
Again if you find a plugin as simple and functional as this one, Please let me know.
Newsletter Subscription
PHPlist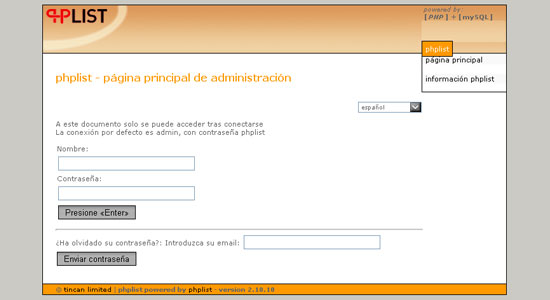 This lightweight plugin for WordPress 2.0 or greater gives you the ability to easily allow users to subscribe to your newsletter or RSS blog feed from any page on your blog. Note: In our case this plugin requiers Theme Tweaking, so don`t activate it yet (unless you know how to tweak our theme).
In case you don`t want to use/have phplist another esay way to let your readers to suscribe via email is using you feedburner account.
Post Preview, Encourage your Readers to "Read More"
Post Teaser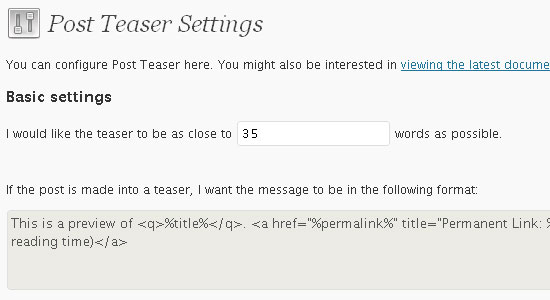 Post Teaser generates a preview or "teaser" of a post for the main, archive and category pages, with a link underneath to go to the full post page. It includes features to generate a word count, image count, and an estimated reading time.
Amazing plugin, think theres no need to list others, don`t you?
Show posts/pages in any way you'd like
Query Posts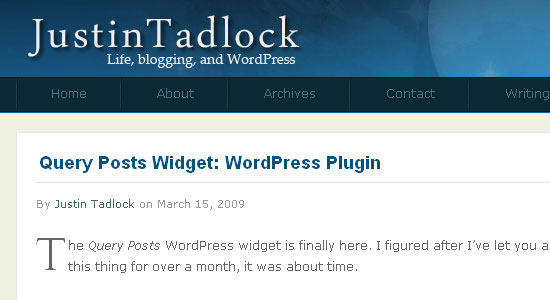 The Query Posts widget was written to allow users that don't know their way around PHP to easily show posts in any way they'd like. It's like having a cool WordPress developer as a friend ready to do your bidding. Seriously. Note: Will be using this plugin later so don`avtivate it yet.
In this case this plugin is a must, because we`ll be using it to set up uor own User links section.
Share Your Posts
SocioFluid
This plugin ads Icons for major Social Bookmarking websites: Digg, Reddit, del.icio.us, dzone, stumbleupon, blinklist, blogmarks, furl, newsvine, technorati, magnolia. More to be added in the next versions.
More Social Plugins
Help readers share, save, bookmark, and email your posts and pages using any service. The button comes with AddToAny's customizable Smart Menu, which places the services visitors use at the top of the menu, based on each visitor's browsing history.
Automatically add links to your favorite social bookmarking sites on your posts, pages and in your RSS feed. You can choose from 99 different social bookmarking sites!
"Drag to share" is the newest trend in social sharing. Just drag an image and drop it into any social website to share the whole page in real time. This plugin is basically a similar effect release by Meebo.com and used by big players like Mashable.
Letting Readers to Contribute
TDO Mini Forms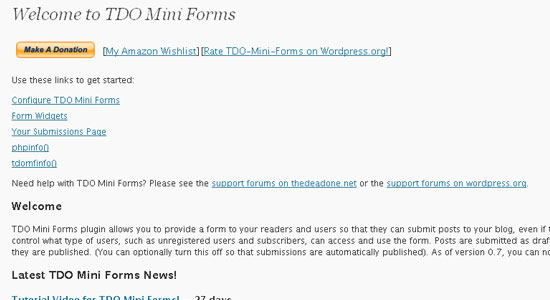 This plugin allows you to add highly customisable forms that work with your WordPress Theme to your website that allows non-registered users and/or subscribers (also configurable) to submit and edit posts and pages.
Note: We`ll also be using this plugin later so don`t activate it yet.
Making your Blog Faster
wp-cache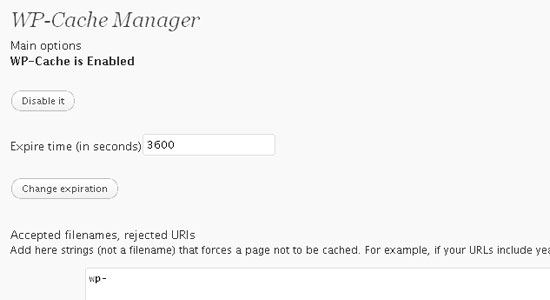 WP-Cache is an extremely efficient WordPress page caching system to make you site much faster and responsive. It allows to serve hundred of times more pages per second, and to reduce the response time from several tenths of seconds to less than a millisecond.
More Cache plugins
This plugin generates static html files from your dynamic WordPress blog. After a html file is generated your webserver will serve that file instead of processing the comparatively heavier and more expensive WordPress PHP scripts.
The fastest and most complete WordPress performance optimization plugin. W3 Total Cache improves the user experience of your blog by improving your server performance, caching every aspect of your site, reducing the download time of your theme and providing transparent content delivery network (CDN) integration.
DB Managing
WP-DBManager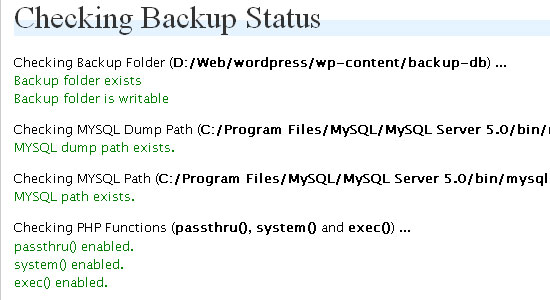 Allows you to optimize database, repair database, backup database, restore database, delete backup database , drop/empty tables and run selected queries. Supports automatic scheduling of backing up and optimizing of database. No more no less, extremely important plugin.
Other Plugins
WP-PageNavi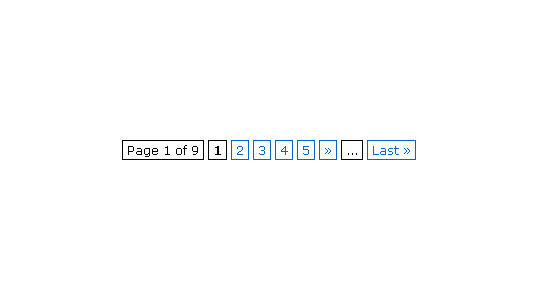 Do you have a very large amount of blog post, and want an easy, and fast  navigatio? well this is your plugin. Help your readers to browse your site easily and fast.
WP No Category Base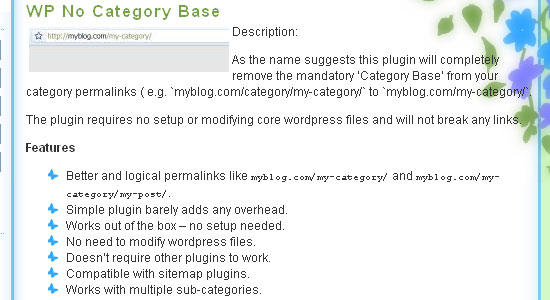 As the name suggests this plugin will completely remove the mandatory 'Category Base' from your category permalinks.
Yet Another Related Posts Plugin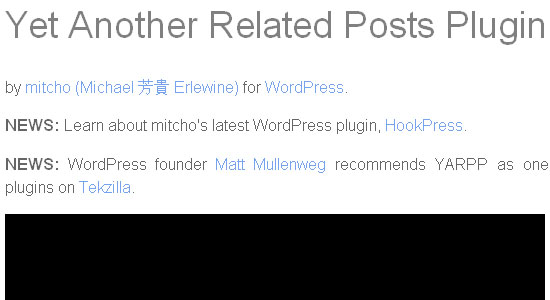 Yet Another Related Posts Plugin (YARPP) gives you a list of posts and/or pages related to the current entry, introducing the reader to other relevant content on your site.
Hope you find this list usefull, I use most of the plugins listed here and they work perfectly. How about you? Which Plugins do you use or plan to use for your blog?