As freelance designers or just freelancers something we have to keep in mind is to use to facilitate our work in areas in which we generally are not good.Recently I was contacted by the Invoicera folks to test their service, since I am a freelance designer.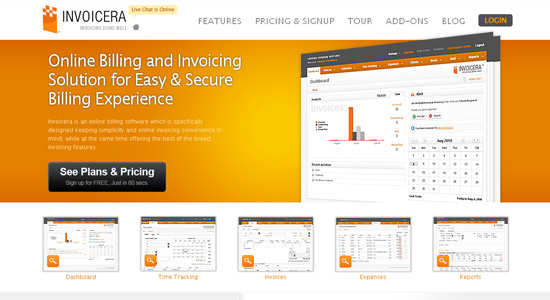 Invoicera is an automated web based invoicing application that will be very helpful for a wide variety of customers. Since its launch in 2008 it has made a significant growth and has proved as one of the best cloud based applications available. The interesting thing is that it has many other features, making our life easier.
Send invoice to multiple contacts– this features is very helpful in multiple businesses. By adding multiple contacts as secondary contacts you can send invoices to more than one person
Send Invoice as an attachment– this reflects your professionalism in the business and also makes an impression on the clients. This feature allows you to send invoice PDF to your clients with a personalized mail.
Multiple Language and currency support– using Invoicera service you can create and send invoices to your clients in their respective languages and currency. Invoicera offers you this exclusive feature to create invoices in 11 languages for your individual client world-wide.
Late Fees Payment– you can charge late fees from the defaulters with just a click of a mouse and get paid for overdue invoices either in percentage terms or in a fixed amount.
Expense Tracking – it is also an exclusive feature which is only offered by Invoicera. With this feature, you can keep a track on all your project's expenses without any effort and later add to the invoice to get a full payment from your clients.
Multiple Payments gateways- Invoicera supports numerous payment gateways and this feature helps you to make your payment quick and easy. You can let your clients pay by multiple online payment gateways such as PayPal, Authorize.net, Google Checkout and many others.
Invoice Scheduling– this features helps you to send your invoice on your set date and time across your clients.  The scheduled invoice would be automatically sent to your clients on the set date and time.
Is an integral tool enabling us to send the invoices, estimates, manage projects, add clients, products/ services, staff members, report generation, among other things. Where you can enter all your clients, open new projects associated with the clients and also keep a track and bill all your time on those projects.
It`s a very good, complete, easy to use and reasonably priced service for what it provides. This solution is continuously improving and the company is constantly innovating.There is a lot of flexibility and the site is quite neat and quick and due to its easy set-up, it allows you to fill all necessary information in absolutely no-time
Once registered we'll be able to access the application panel.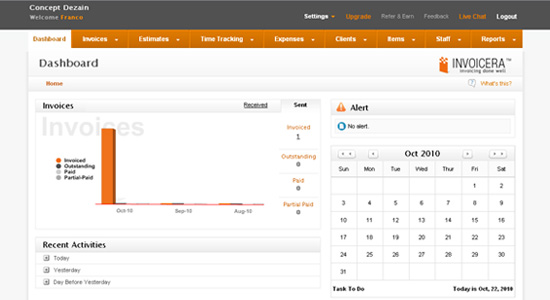 As we can see the panel is very intuitive and has the possibility to travel all the functions from the initial screen. Comprehending the application was absolutely trouble-free for me, since it only requires exploring various sections and it just goes smoothly.  Moreover, creating an invoice in Invoicera was trouble free.
Creating invoices, adding customers and services is very simple and can be accomplished with a few clicks. As for the invoices we are able to use the templates that they offer but only in paid accounts, in the free account we can change the color of the invoice and add our own logo.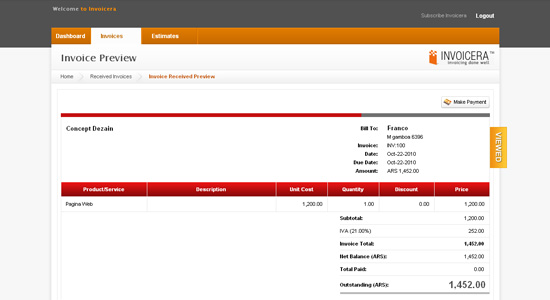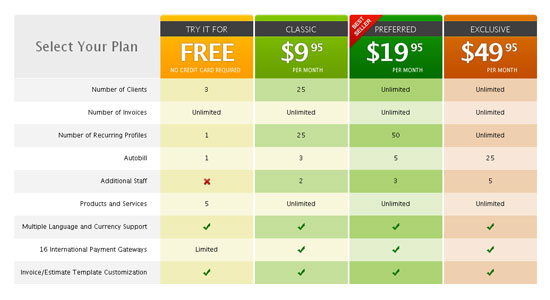 Let me begin with the free plan which is introduced for testing the application's functionality but it has its own limitations.  The other two paid packages are at $19.95 and $49.95 respectively but I prefer $9.95 plan the best and more lucrative than rest.
So if You are just starting or are in the need of some great application to help you with your business, Invoicera is at least worth checking.