As you may have noticed we haven`t posted anything for the last couple of weeks, this was due to some changes that we have being thinking for the blog, and now is a good time to explain them to you.
As you may or may not know thanks to you, our beloved readers, Concept Dezain is growing very rapidly, so we wanted to expand the topics in the blog. When we first started we were only a Design blog but now we are experimenting with new topics, such as advertising, marketing, and animation. We feel that this topics are very related so thats why we have incorporated a frequent contributor to our team, his name is @ Mr. D. He`ll be posting mainly about animation advertising and marketing.
We are now at conceptdezain.com
Another thing that you surely didn`t noticed is that we have moved our site from francoaverta.com.ar to conceptdezain.com, of course, you can still acces the blog through francoaverta.com.ar and conceptdezain.com.ar, this was posible thanks to the help of @jdmweb, he is a great developer that helped me a lot. Make sure to follow him on twitter and check his site, as he writes awesome development tutorials.
Write for Us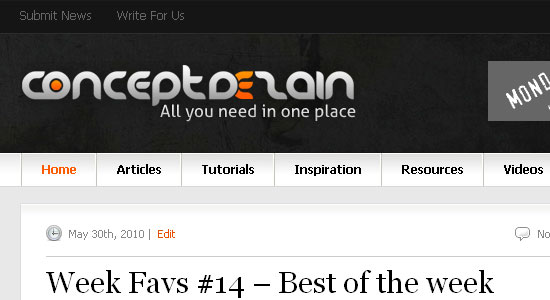 Another big change that we are announcing today is that we have open Concept Dezain to guest posting. For this we have added two links at the top left of all pages were you can just click and get in touch with us if you have any interesting ideas for a guest post.
I Got Interviewed
Last Week I got interviewed by the awesome people of admixweb, I just wanted to thank @Holly Lamarche and @Teylor Feliz for taking the time to do this interview and for the opportunity to connect with more designers. Remember to check their awesome blog at Admixweb.com as they do great interviews and post awesome tutorials!!
Well I just wanted to share this news with our readers and hope that if you really want to write for us just don`t hesitate.