Hi Guys, once again I have compiled my favs for this week!! I always recommend to check this great articles from others Design blogs that I find very usefull. Hope you enjoy!
45+ Effective Tutorials for CSS Menus & Navigation
In this article by Dzine Blog 360 we get a great round up of menus tutorials.
Mastering Font Combinations
One of the most important and difficult aspects of design is good font combos, in this article by Web Design Ledger we get excellent tips to become a Master.
Web Developer's Guide to Getting a Startup Up and Running
How many times do you get a nice idea for a start up but you don`t use `cose you don`t know what to do? In this guide we`ll get all we need to do it. By Six Revisions.
50+ Cheat Sheets for Building WordPress Themes and Plugins
I`m starting to learn how to develope WordPress themes and this article is just what I need to avoid headaches. A great round up by Tripwire Magazine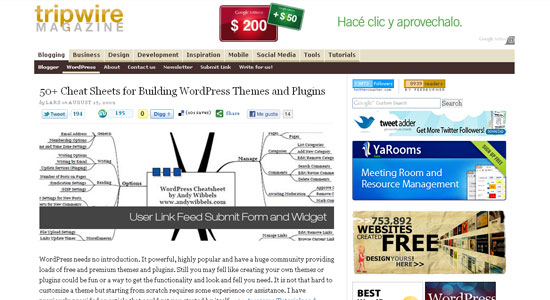 23 Good Habits of Successful Bloggers
A nice article for bloggers to stay on the path to succes by Instant Shift.