Adding a 3D effect to type can really improve the attractiveness of a design. Since 3D makes text pop out from the background, it is an excellent effect to learn for web design, posters, and even business cards.
There is more than just one way to create a 3D effect, however, so make it your goal to go through as many different 3D typography tutorials as possible to really fine tune this very helpful skill. Below, I've compiled 27 of my favorite 3D typography tutorials on the web, organized by the year they were published for your convenience. Enjoy!
Tutorials from 2010
Reflective Liquid Type

Walk through this tutorial to learn how to create very attractive liquid type using Photoshop. The steps are easy to follow and the results are incredible!
Evoke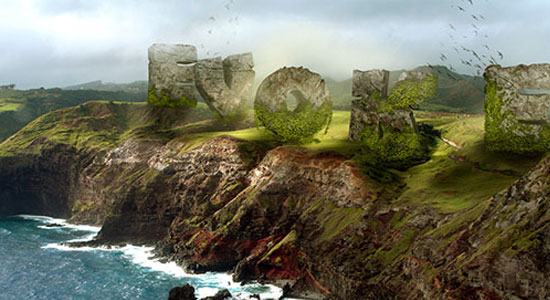 Add text to a rough landscape, and learn how to give the type an eroded, aged look. This tutorial would also be great for learning how to give an aged look to statues or stone ornaments.
3D Text
This stunning tutorials teaches how to create a stunning fruit composition with text in Photoshop.
Take a Break
This 3D tutorial shows how to add 3D text to a photo manipulation. Learn how to add realistic grass and a rough texture to the type.
Quick and Realistic Emboss/Deboss Effect
Use this quick and simple Photoshop technique to create embossed and debossed effects that look so much like the real thing.
Beautiful 3D Text Composition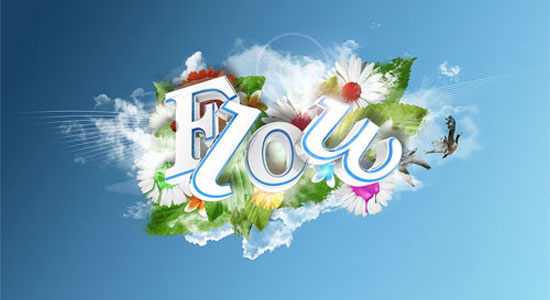 Create a beautiful 3D text composition with this tutorial. Learn how to angle the text and place over a flower background.
Incredible Typographic Illustration
In part 2 of this tutorial, you will learn how to create type made up of screws and other hardware and type made up of spilled paint. If desired, you can also go through part 1 to learn how to create the background.
Mysterious Poster Design with 3d Text
Inspired by the television series, Lost, this tutorial teaches how to create an inverted 3D. Learn to make a cut out using text to mysteriously reveal scenery behind the background.
Life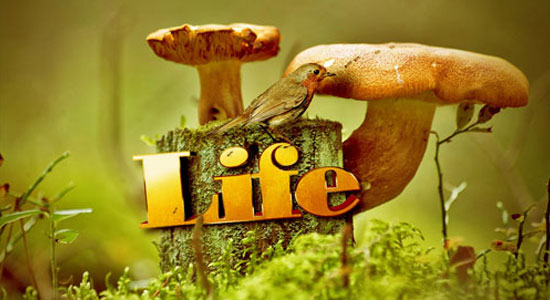 This tutorial teaches how to use Xara to create a 3D typographical wallpaper design.
Hello Color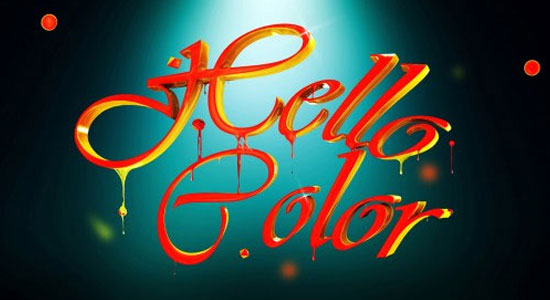 Learn how to create 3D type that looks like delicious candy, complete with a sticky dripping effect.
Blend 3d Typography with a Photo
Add some very realistic text to a photo using Cinema 4D and Photoshop. The steps are very thorough and the type really stands out from the background nicely.
3D Valentine's Day Typography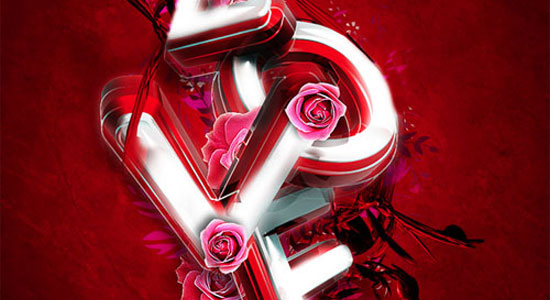 In honor of the next upcoming holiday, here's a beautiful 3D type tutorial for Valentine's Day. Just think of how impressed your loved one would be to receive a card you designed yourself!
3D Typography with Advanced Texturing and Lighting Effect
The texturing and lighting effects on this 3D type is gorgeous, even if the birds seem a little out of place.
The new way to create 3D text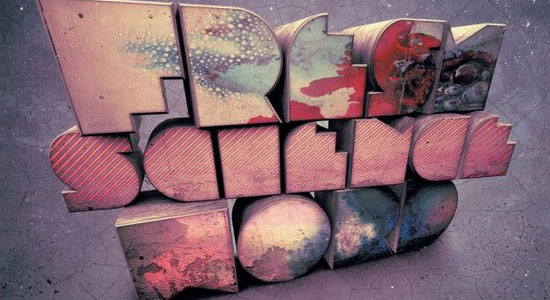 This 3D type design looks like a photo of actual text blocks stacked on top of one another. Simply create text in any program, and then use this tutorial to learn how to add the 3D effect along with textures using Photoshop.
Neon Style
This video tutorial shows how to easily add realistic neon type to a wall background in Photoshop.
Grass Text Effect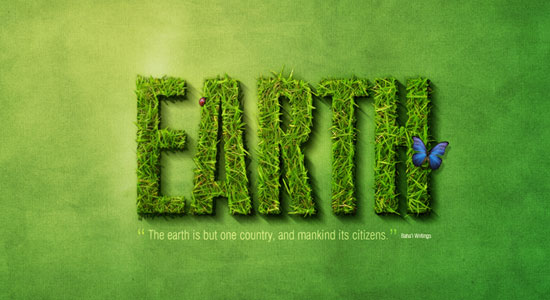 If you have ever wondered how to add realistic grass text to type, this is the tutorial from which to learn this effect. The grass is incredibly detailed and the bugs add a nice touch.
Metaball object
This detailed video tutorial shows how to create an animated 3D type segment in Cinema 4D. The typography along with the liquid moves away from the screen as if traveling down a subway tunnel.
Iron Man 2
Use Photoshop and Cinema 4D to add texture to Iron Man 2 type and create an amazing 3D look.
Transformers Titles
Learn how to blow up 3D text, such as is done in the film for Transformers. This video tutorial uses Explosion FX in Cinema 4D to create a very realistic effect.
Funky Text Effect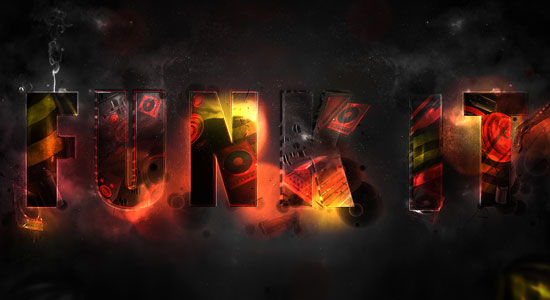 When zoomed out the entire effect is lost in the dark colors, but the lighting on this 3D text tutorial is so impressive that it makes up for the minimal contrast between background and text.
Tutorials from 2009
Playful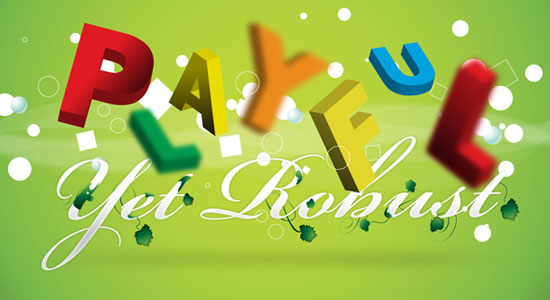 The different angles on the type, the blurred and focused effects, and the lighting make this tutorial one that everyone should attempt.
Realistic Water Text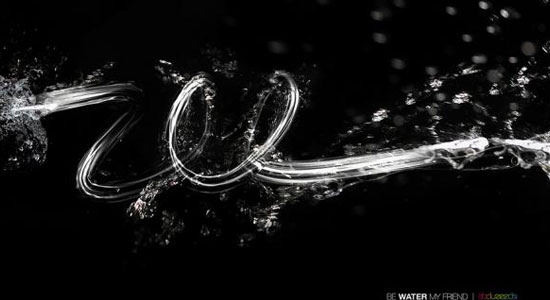 With wonderfully realistic results, this water text tutorial puts many others to shame. Learn how to turn a splash of water into text using Cinema 4D and Photoshop.
3D Text Scene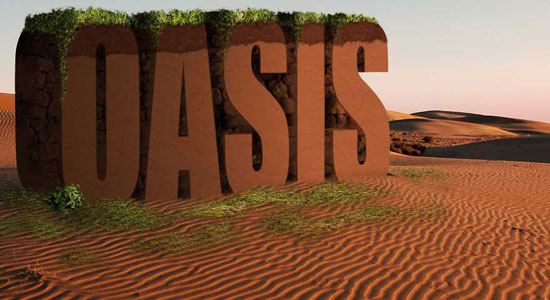 Use Illustrator and Photoshop to create a desert text scene, complete with moss growing along the top of the 3D type.
Add Fantastic Color to 3D Text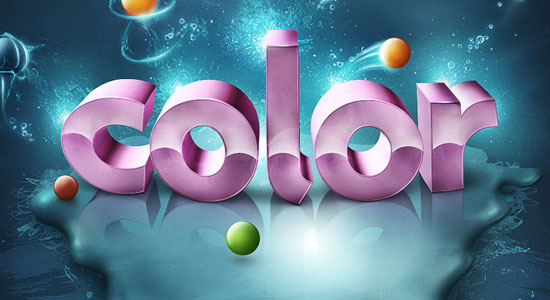 Part 1 of this 2 part series shows how to add glow, 3D effects, and color to any simple text as well as create the splash.
3D Text On Fire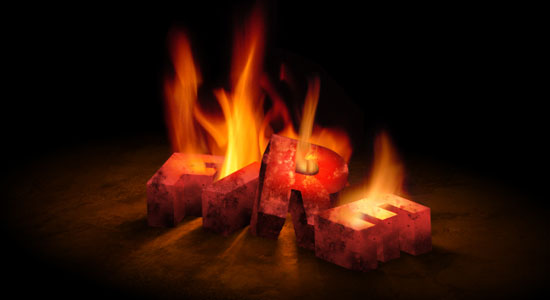 In this tutorial, you will learn how to set 3D text on fire. The glow of the flames coming through the letters and the charred texture really adds a nice touch to the final results.