WordPress is a brilliantly convenient blog publishing platform, one that both web designers and those not so versed on blog design can take advantage of. Personally, one of my favorite aspects of WordPress is how easy it is to make changes to your background.
Simply find the look or "theme" that you want and add it to your blog. This handy tool means that you can decorate your website for Christmas without any headache at all. To make it even easier, I have gathered some of my favorite Christmas WordPress themes. So, browse through the list below and get your followers in the holiday spirit with some fun, elegant, or beautiful themes.
WordPress Christmas V1.1 – A free wordpress theme
With two heading designs from which to choose, this two-column theme can be used for Christmas or after the holidays are over. The Christmas version includes gorgeous icons such as stockings, a snow globe for an RSS feed, and more. The second version includes text that spells out, "Change your future" and cute icons such as a toy airplane and iPod.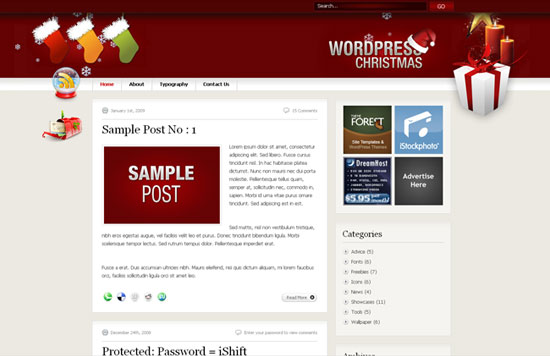 Christmas Cambledyne
The red background in this WordPress theme is of green fern leaves amongst yellow flowers, giving a Christmas appearance without being too pushy with the holiday look.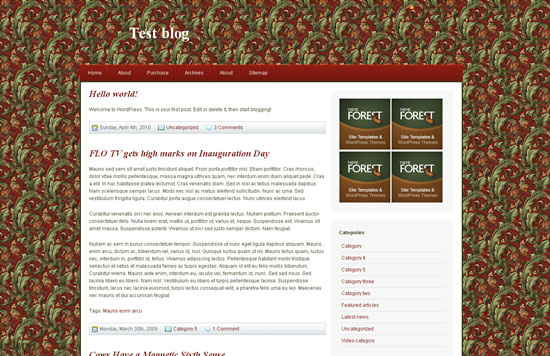 Christmas WordPress Theme
This Christmas Eve night theme shows Santa and reindeer flying in front of a glowing full moon over an adorable wintery scene. The lamp posts on the corners of this two-column theme add to the glow effect.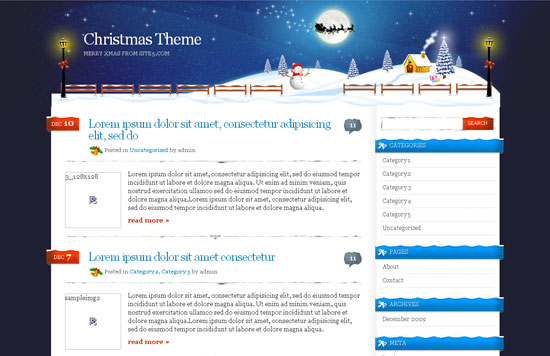 Xmas Crowd 1.0
This cute two-column theme would be perfect for any blog looking for a youthful Christmas feel. The icons in the illustration have bright, vivid colors and are very toy-like.
Lovely Xmas 1.0
This lovely WordPress theme has a different twist to it with a pink background. The illustration of the stocking and snowflakes in this single column theme is simply gorgeous.
Christmas
This WordPress Christmas theme is clean and fancy at the same time. It has 2 columns and elegant red borders.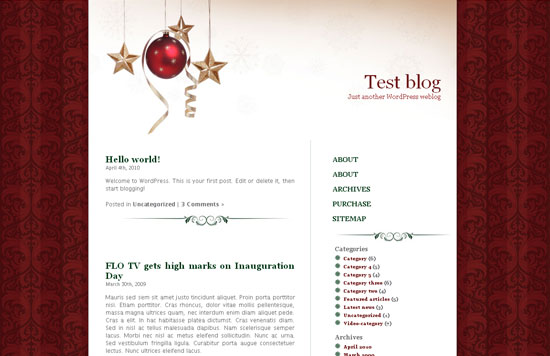 Christmas WordPress theme
Snowmen and snowflakes make this theme look festive for any blogger. With 3 columns and an easy header change, this theme is widget ready and Adsense optimized.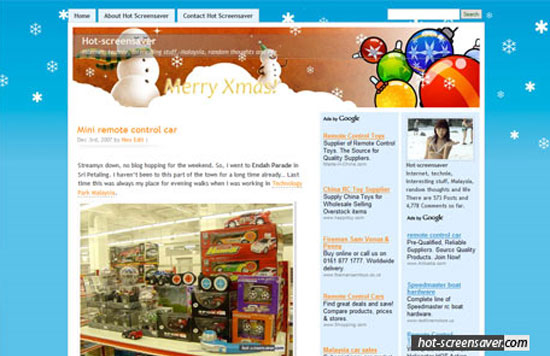 Christmas Eve
A lit Christmas tree next to a mantle with stockings takes us back to cozy holiday evenings in our childhood home. With three columns set in cream, maroon, and green colors, this theme is sure to give your readers the warm fuzzies.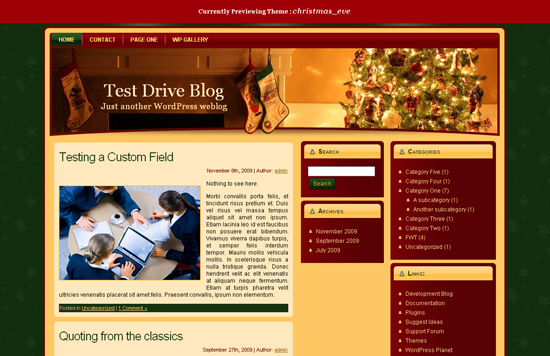 So try out one of these WordPress themes for your blog before Christmas is over. Your readers will probably enjoy a festive change from your blog's usual appearance during this holiday season.