Hi Guys, once again I have compiled my favs for this week!! I always recommend to check this great articles from others Design blogs that I find very usefull. Hope you enjoy!
25 jQuery Drop Down Menu Scripts
An excellent resource when coding a website. By Vandelay Design.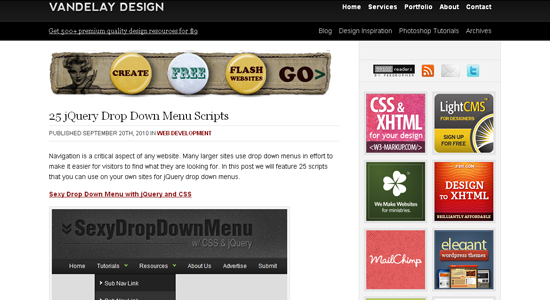 35 Free Big, Bold, and Beautiful Headline Fonts
Sometimes we need a nice clear font to help us in our designs, in this article you`ll find a great deal of headline fonts. By You The Designer.
A Collection of New Poster Tutorials in Photoshop
A great way to improve your soft and design skillz is to follow the great designers tutorials and understanding them. By Naldz Graphics.
5 Harmful Things a Logo Should NEVER Have
5 tips on the fly on what not to include in a logo. By Logo blog.
25 Full And High Quality Photoshop Web Layout Tutorials
A great collection with new and all time best layout tutorials. By PelFusion.