Depositphotos is the best source for premium Royalty-Free Photos, illustrations and vector art. If you are a designer, advertiser, photo editor, content manager or blogger, they have millions of high-quality images, photographs and vectors available at an affordable price to fit all your image needs.
They have very low prices and several subscription and buy options perfect to suit any need you may have:  Pay-by-Credits, Subscription Plan, Pay-by-Phone (SMS Images), Pay-by-Bonus.
With so many great photos and illustrations available on Depositphotos, how do you ever find exactly what you need?. Well, that's easy, you only need to browse the categories page. This way you'll find exactly what you need in a flash.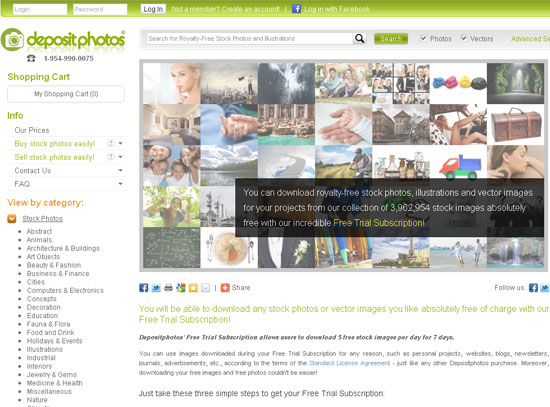 You can download royalty-free stock photos, illustrations and vector images for your projects from their huge collection of stock images absolutely free with their Free Trial Subscription.
Now thanks to the Depositphotos folks we bring you this awesome giveaway.
The Prize:
3 Deposit Photos accounts. Winners can download up to 5 images per day for free during 7 days. (1 account for each winner).
How to Enter:
Follow @ConceptDezain and @Depositphotos on twitter.
Tweet this giveaway using the tweet button at the bottom of the post OR
If you don't have a Twitter account become a Facebook Fan here and Share the Giveaway to your wall (you can do this with the Facebook share button at the bottom of the post).
Leave a comment in this post with your tweet or your Facebook Id so I can check it, and make sure to leave a valid email cose the winner will be contacted via email.
Subscribe to our RSS (optional).
The giveaway will end on Tuesday 6th (September) 2011 24:00 UTC/GMT – 3 h.  and the winners will be selected using the random.org service and will be announced on Wednesday 7th. Good Luck!!!!