Hi guys, this time we return to the Argentine Graphic Humor topic, taking as the star of this post to a great artist who in recent years and with a very particular style of drawing is making much noise in the world of Argentine vignettes, this man is called Decur.
The Argentine artist Guillermo Decurgez (popularly known as Decur) was born in Rosario, Santa Fe, Argentina on October 30, 1981. He is 27, lives and works in Arroyo Seco, a village 30 miles south of his hometown.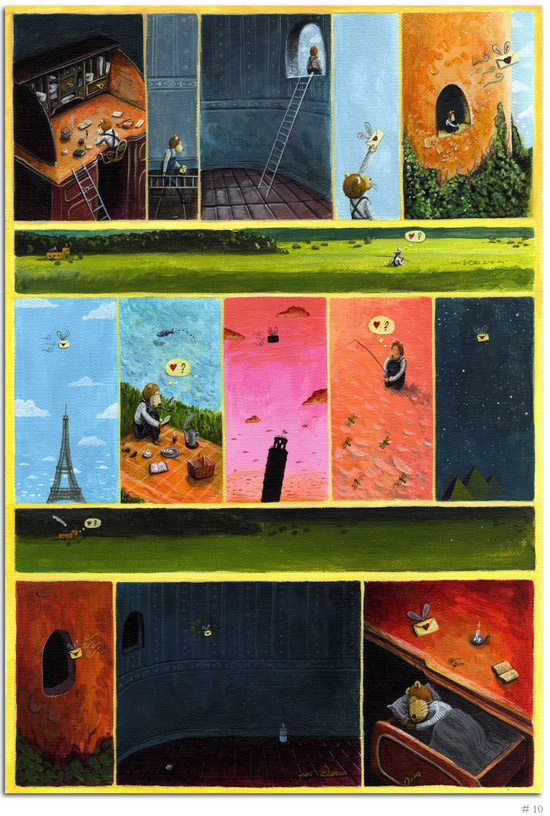 In 1999, first published one of his cartoons in The Journal of Arroyo Seco and, later, in 2007, began publishing some illustrations for a local magazine. But it was not until 2009 when Decur began to exploit his artistic side, and this after his meeting with renowned Argentine cartoonist Liniers, the same Decur says:
"Liniers changed my life, I was invited to participate in his strip Macanudo in the newspaper. Then came Kioskerman and many more that filled over my soul. "
From that moment on, Decur has achieved a significant dissemination of its work carrying out various projects on the Internet. Currently scripts and draws a strip called Le Socotroc, which goes every Monday at his personal blog. He also assists in La Murciélaga journal. And he is part of the staff of the digital magazine "Bonete", with Liniers, Tute, Max Cachimba, Alberto Montt and Troche. The magazine is updated the first day of each month. And besides, the author recently announced another project in production:
"I'm writing and painting my graphic novel. Soon I will post on my blog something about it. "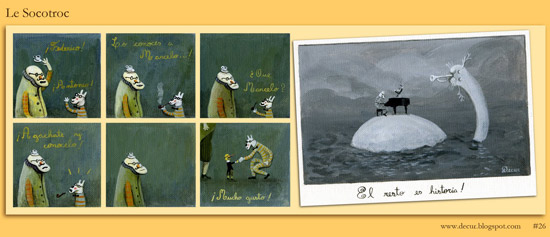 His Workplace
One paragraph deserves Decur Desktop, I leave his statements on it:
"This desk is my design, there are no two in the world! … It goes without saying that I am a big fan of desktops, and more of the old Secreter style desks. In the picture you can see Enrique (on the right side, middle), … is a friend who makes me endure downturns and "solitude" fattening me mate … well … jaja cool cool. "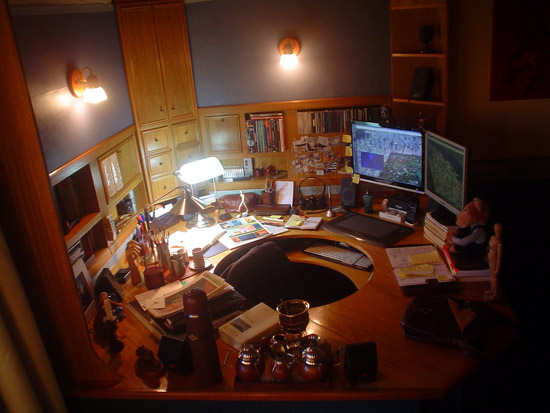 In my opinion Decur is an artist you must check, many of his works are miniatures drawn with acrylics, some of his work will involve up to 20 hours of dedication, this kind of thing combined with the creativity of the cartoonist demonstrate the size and the potential it has to be one more in this new breed of artists that are already the talk of the world.
As usual, here you have his personal blog: http://decur.blogspot.com/ and his online magazine "Bonete": http://revistabonete.blogspot.com/
Quotations extracted from: Imaginaria