Hello guys, this time we´ll talk  about "Persepolis", before being a movie (format that gave it worldwide recognition) this story began as an autobiographical comic by Iranian Marjane Satrapi.
It tells the story of the author from 1979 when she was ten years old and she witnessed social and political changes that puts to an end more than fifty year of the reign of the Persia Shah in Iran and gives way to an Islamic republic, from there on the comic combines the experience of a child, teenager and finally a woman explaining to the Iranian history of the twentieth century ina a very didactic way.
Persepolis is written and drawn by Marjane Satrapi and was originally published in France by the independent publisher L'Association. The comic is done in black and white and consists of four volumes.
It received excellent reviews in publications both in comic specialized publications as well as general press, obtained a considerable sale success for a work of its characteristics, and harvested a lot of awards in the field.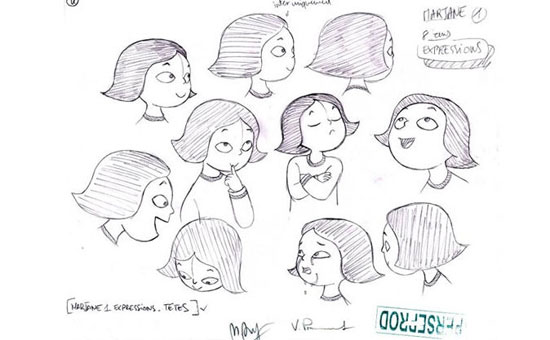 Given these circumstances, the author, with Vincent Paronnaud help, decided to develop an animated film of this interesting comic, the film was released on June 27, 2007 in France and adapts the comic book's first two volumes. There is not a minor detail mentioning the animation is made entirely in black and white (except for some short scenes) as this shows the film is faithful to the graphic novel it is based.
It´s first major recognition was to be included in the official selection at Cannes in May 2007 where it finally won the Special Jury Prize. Also it was nominated for the 2008 Oscar Award for Best Animated Film (which eventually Ratatouile won).
Persepolis Trailer
Marjane Satrapi was born in Rasht, Iran, in 1969, studied Fine Arts in Tehran, finally in 1994 left her country to go to live and develop her career in France. After her arrival to Paris she comes in contact with L'Association, where it is motivated to create a comic which reflects her experiences and her vision of Iranian society and so Persépolis was born.
In my opinion those who do not know this film should not miss the chance to see it, given its creative combination of  traditional design (which is not common today), and an argument with bases in constructive criticism and humor.