A few days ago I had the opportunity to see the Summer Wars film, given the quality of both graphics and plot could not stop doing a report on it, so here it is:
Produced by Mad House studio and directed by the increasingly renowned director Mamoru Hosoda (of which I`ll speak later), this film presents a world where the Internet Social Network "Oz" is the tool through which administer and manage the vast majority of things that happen in the real world, even the leaders of the world have their own accounts through which they manage their countries.
In this context we are introduced to Kenji Koiso a 2nd. year high school teen, whose only skill is mathematics, and his greatest achievement in this area is being about to  represent Japan in the Math Olympics.
The other big star of this film is Natsuki Shinohara. A 3rd year high school girl, what makes her Kenjis senpai (used to address fellow students or some type of operation and with more hierarchy), and she happens to be the most popular girl in school.
One day, Natsuki decides to propose Kenji a part-time job, this job it`s to accompany his senpai to his grandmother's house in Nagano Prefecture. Our protagonist accepts to find out later that  Natsukis family (which is VERY large) will meet to celebrate their grandmothers 90th birthday and his job is to pose as her boyfriend / fiance.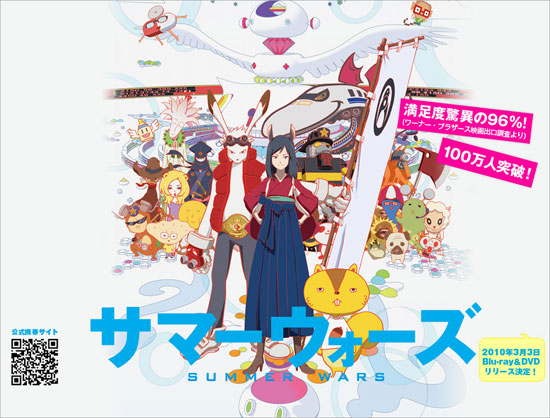 During the first night at the Shinohara mansion, Kenji receives a coded message on his cell phone, he decrypts it and sends the response, thinking it's just a game. To his surprise the next day he learns that what decrypts was the access code to hack Oz generating a Worldwide chaos.
From this time on, with Natsukis family help he must fight this Hacker.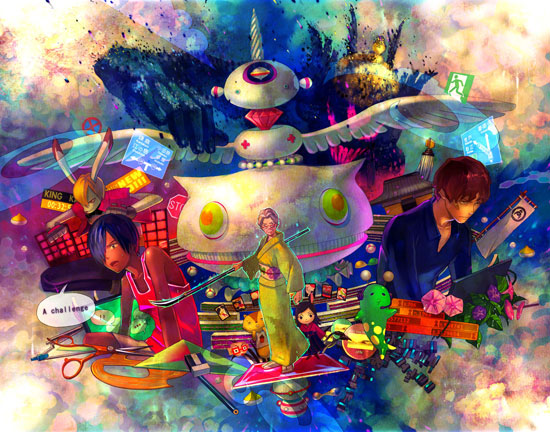 Summer Wars is a breath of fresh air as animation and combining argument concerns, combining very current issues while continuing to stress the importance of upholding and strengthening the social and family values.
Summer Wars Trailer:
Mamoru Hosoda (this film director) was born in Japan in 1967, was devoted to TV animation until 1999 when he released his debut: Digimon Adventure, since 2005 he works in the Mad House Studio for which he directed his second film of great recognition, "Toki wo kakeru Shojo (The Girl Who leapt Through Time) from wich I`ll be doing a report in short time.
As usual if you want to get more info, heres the Mad House studio website: Mad House