Hi folks, today I`ll talk a little bit about the work that continues the Star Wars saga after the 6 episodes made by George Lucas. On that story there is, to this day, any new release film project, however the fans are responsible for keeping it alive.
First let's talk about the "Star Wars Fan Movie Challenge" organized by Lucasfilm in association with the video site Atom Films. This event is posted on the official website in March and April of each year, which is open to amateurs and professionals around the world and aims to carry out short Films of the saga, preferably with a comic angle. The last winner was Oscar Triana, a Colombian graphic designer and animation specialist, with the short film "Star Wars In a Notebook".
This film was made in its designs through photoshop and its animation with the stop-motion technique, the author says about his work: (fragment of an interview by companiaperfecta)
Using the "philosophy of the child", the production had nothing spectacular or ambitious, the idea was to make maximum use of the available resources at home, adapting them to recreate the movie, to play more with the ingenuity and sensitivity that only a child has.
The film has a very good quality and given its 5 short weeks of production its remarkable.
Star Wars In a Notebook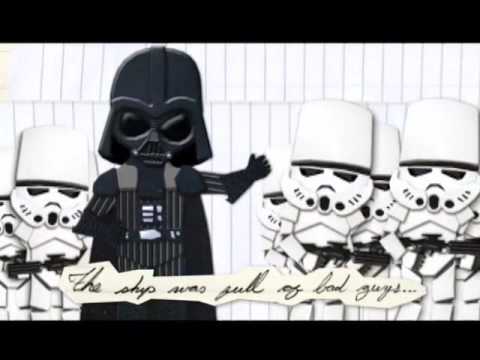 If you want to know more about this exciting animation artist, here`s the site from which http://www.creativoscolombianos.com/profile/OscarTriana I knew him, this site has information about many animation artist of Colombian nationality.
Finally as a bonus, I want to share these images made by 2 Spanish illustrators with the "Star Wars" topic for "Lemonday", this page brings together several Spanish designers and defines a theme for each week and the designers must submit their work. For those interested the website is Lemonday.
Tebart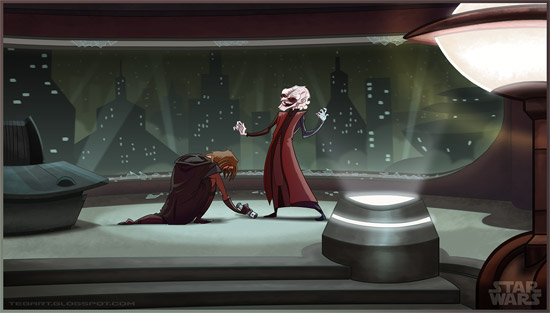 Jabo