Hi Guys, once again I have compiled my favs for this week!! I always recommend to check this great articles from others Design blogs that I find very usefull. Hope you enjoy!
19 Detailed WordPress Theme Development Tutorials To Help you Create Your Own Theme
A great lis of articles to help you boost your WP theme developement skillz. By Design Beep.
50 Beautiful PSD Web Templates Of 2010 For Free Download
In this article we get a lot of free high quality psd templates!. Yes Free!!!!. By Best List of Lists.
5 Tips for Handling Pricing Objections
As designers a part of the job that we don`t get very easy is the business part, in this article we get some excellent pricing tips. By Vandelay Design.
50 New Useful CSS Techniques, Tutorials and Tools
There are lots of tutorials about CSS, and you get the bests one here, a must bookmark! By Smashing Magazine.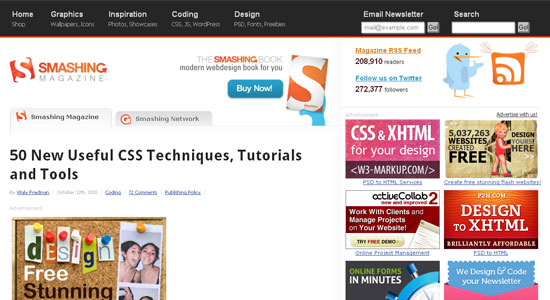 What's New for Web Designers October 2010
The best New Apps, services and everything a web designers need. By Web Designer Depot.