Thanks to my good friend @colaja from Webexpedition18, I was able to get 5 invites for this cool service, and now I`m making a Giveaway.
Typekit is an online service that allows you to use licensed fonts on your own websites. Thats huge!!!. Imagine the possibilities.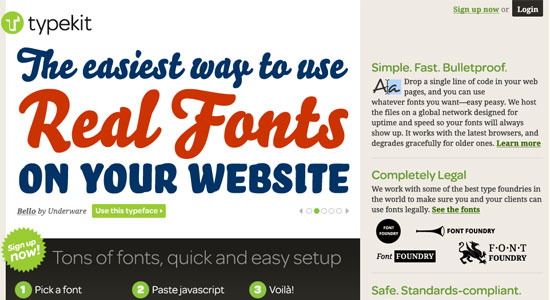 I wan`t an Invite, How do I get It?
You need to do 3 things in order to get one:
Follow me on Twitter @ConceptDezain.
Tweet the following: RT @ConceptDezain Win a Typekit Invite – For more info visit: http://tinyurl.com/yfp5o4q
Leave a comment in this post with your Twitter name (remember to put a valid email in the comment form).
You have time until Monday, November 16, 2009, at 00:00 (GMT-03:00 Buenos Aires)  to complete all 3 steps in order to participate. The winners will be choosen at random, and they will be announced in this same post and contacted via email. So good luck to you all.
If you already have an invite or an account, here`s a great tutorial on How to get started with Typekit.
Well Guys, Thanks all for participate. An the winners are:
@JoshMichielsen
@clippingimages
@mcollinson
@amal_ahmad
@arc95